Last week I shared this quote on my Facebook Page: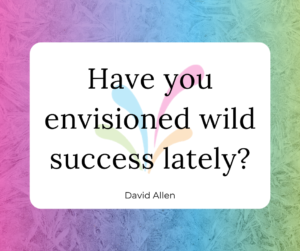 I was at a retreat last month with my business coach, where one thing became clear. Success looks different for the different people in the room. And that's WONDERFUL.
Some people want to speak on BIG stages, while others prefer staying behind the scenes. Everyone has big dreams. They all just look a little different. One way isn't "better" than the other.
Each version of wild success has two things in common: it requires clear intention and action.
Knowing all the steps isn't required, but knowing what you want to accomplish over the next couple of months is essential.
So, what does wild success look like for you? And what's your plan over the next couple of months to bring you there or closer to it?
I'd love to know!