This post is the eighth and final part of a series on Being Happy. Links to the other posts in this series are at the end of the post.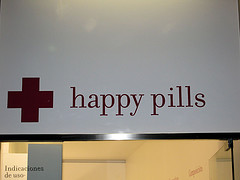 This marks the end of the "Being Happy" series.  So, now you have my six happiness suggestions.  In my post at the beginning of this series I mentioned that I was looking for someone to "tell me everything I needed to do in three easy steps to be happier."  The six suggestions are just that, suggestions, and not a magic pill or easy steps.
"Happiness is not a goal; it is a by-product."
~Eleanor Roosevelt
The hardest part of it all is continuing to do it.  You get to decide each day and each moment what your focus is.  As an adult, I've had two very unhappy times in my life.  Each time I eventually recognized it and made the decision to change myself.  Notice that I said I've had two very unhappy times in my life.  At some point I stopped being happy and had to decide to be happy again.
"People are about as happy as they make up their minds to be."
~ Abraham Lincoln
The biggest factor in being happy is you.  You get to decide if you're happy or not.  Examine your life and determine what you want to change and then commit to it.  Sometimes it's downright scary, but the journey is beautiful and it's yours.  Remember, big changes don't always happen in one giant leap, they often happen in many small steps.  People on the outside looking in may only see the giant leap (think of "overnight sensations" that have taken years to get there), but the small steps are there.
I hope you found some useful information that you can apply in your life.  My suggestion is to focus on one item from the list every week or two and take time to evaluate how you're doing with it and what you need to tweak.
Tell me what you think!  What suggestion was most helpful?  What did I miss?  What would you like to see next?