This post is the sixth part of a series on Being Happy. Links to the other posts in this series are at the end of the post.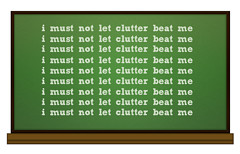 Every night I came home from work exhausted.  I was too tired to do much of anything other than turn on the TV or a movie, make something quick for dinner and then veg out for the rest of the night.  Not a lot of stuff was getting done around the house.  Things generally stayed where I last put them (and hopefully I'd remember where that was when we needed it next) and the piles just accumulated.  I never had anyone over; it took two days to get the house presentable.  Ohh, and my husband and I had been in the house for a couple of years or so and still had boxes to unpack that sat in the front room and more in the basement.
Let's review, I was unhappy at work and then came home to a messy and dirty house and was at home, but lets face it, I wasn't happy there either.   At some point I finally said enough is enough and we worked on decluttering.  I was pleasantly surprised to feel like a weight was lifted off my shoulders when things were put away and I could see surfaces again!
I found a couple of posts from The Happiness Project website that are helpful for decluttering:
When I decided to clean out our old office (a room that we hadn't used for two years and I wanted to claim as my home office) I would spend 10-15 minutes just trying to figure out what I needed to do first.  I was too overwhelmed with the task!   I decided that every day for about a month I would go into the room and pick up one thing from it and add it to the trash, put it in the things to donate bag or find it a new home in the house.  It generally took under a minute and it really made a difference in that room and made it much easier to tackle later in longer increments.
Having a decluttered house lifted my spirits.  I came home and went "ahhh" instead of "ugh."  It can seem like a huge task, but break it into chucks.  At the end of the month of removing one item a day from the office I decided to tackle it for a longer period.  I broke it into four sections, my desk, my husband's desk, the floor and the closet (yes, the floor needed its own designation).  Break up your room into what makes sense for you and only work on one section at a time.
What are your biggest obstacles with clutter?  What strategies work well for you to remove clutter? And how did (or will) you feel when it was gone?